Hey y'all, Ashli here. I'd like to take a moment to share a piece of my heart.
When I first moved to Seattle 11 years ago, I felt pretty isolated. After spending almost my entire life in sunny Southern California, everything about moving to Seattle felt like a new, unfamiliar, terrifying adventure. I moved to this city on a whim in 2010 without knowing a single person here, nearly broke with only $1,500 in my bank account to cover 2 months' rent (I had 3 roommates at the time), plus a little extra for food and gas to get me to job interviews. I struggled socially, mentally, emotionally, and I will spare you my griping woes about acclimating to the weather. I have vivid memories of my early days living in this city. Specifically, I recall one evening on the phone with my dad while I was in the middle of making dinner.  That night, dinner was a bowl of plain white rice –  the only thing I had left in my cupboard, and I had already allocated $20 for gas to get myself to a job interview the next day. My budget was far from flexible. After a month of job interviews and no promising prospects, I had come to accept that this was my struggle to own, and I tried to let on that I was doing fine. In reality, I was starting to panic. My dad asked cheerfully, "What's for dinner?" and I hesitated before answering truthfully. My dad must have heard the wavering in my voice, because he & my mom showed up 3 hours later, unannounced, with 2 bags of Trader Joe's groceries. For context, my parents live up north in Mount Vernon, WA, about 90 minutes north of Seattle. Without their help and generosity, I would have been out of rice by the end of that week, and my mental health would have plummeted.
The difference between my experience and the experience of others who are currently facing homelessness is vast. I had help. I had familial support, and at the end of the day, I still had a roof over my head and a safe, warm bed to rest at night. Without this support, I too, would have ended up living in a makeshift shelter, trying to survive daily while combating the shame and overall vulnerability that comes with losing your dignity, your home.
Homelessness is not a new development in Seattle, but it is more prevalent now than in past years.
In the late 70's, this city began to witness an increase of people in the houseless community. On November 19, DESC opened its doors as an overnight emergency shelter in the ballroom of Pioneer Square's Morrison Hotel. From 7 p.m.-7 a.m., a staff of 14 welcomed nearly 200 homeless adults through its doors on a first-come, first-served system. DESC began as a partnership between the City of Seattle, the Greater Seattle Council of Churches, and WAMI (Washington Advocates for the Mentally Ill) to address the shortage of services in the community.
By the 1980's, the Downtown Seattle area experienced such a significant increase in the houseless community that various leaders in Community Organization knew they had to act.  Fast forward to 2020. In spite of challenges during a global pandemic, an on-going public health crisis in the houseless community, and Covid-19 related shelter capacity restrictions as the cherry on top, DESC has managed to spearhead the issue of an affordable housing shortage while continuing to remain a world leader in crisis assessment & response.
DESC is an award-winning local organization that works tirelessly to end homelessness in Seattle.  Above all else, they know that permanent shelter is the answer. That's why they're opening 4 brand new low income housing facilities in Seattle, as a means to provide permanent shelter, medical and mental health services, 24 hour staff, crisis response, employment support + training, and a restoration of human dignity to those who have remained unhoused for so long. They rely on both government funding and communal support to continue their daily operations in service of 3500 adults per day. We are in full support of their mission.
This year, we are launching a Pop-Up & Drop Off Donation Drive to collect what DESC describes as "Survival Items" to help people survive the winter in Seattle.  These items, while they may seem trivial to some, are considered vital to meet the bottom of the barrel, basic needs for those living without a permanent home. When you're living outside and carrying every item you own in a duffel bag, it's likely that you'd also be wearing every piece of clothing you own in an attempt to stay warm. Have you ever tried to layer a t-shirt, long-sleeved shirt, thick sweater and a hoodie underneath your raincoat? You'd probably come out looking like that kid from A Christmas Story. Good luck trying to put your arms down at your sides.  If, for some reason, you found yourself in need to layer this much clothing, it would probably suit you better to wear a larger sized coat.  According to Don Rupp, DESC's Community Resources and Events Manager, XXL coats address this problem and it's one of the items they have the least amount of. Not only that, but larger coats can prevent people from freezing to death by doubling as extra body coverage while sleeping. Because of this shortage, it's a survival item that is frequently stolen off a houseless person sleeping in the night.
From now until Tuesday, November 23rd, we are collecting a list of items which are currently the most needed. These items will better the chances of survival by those living unhoused while they wait for permanent shelter.  Donated items can be new or used, but we ask for clean items only: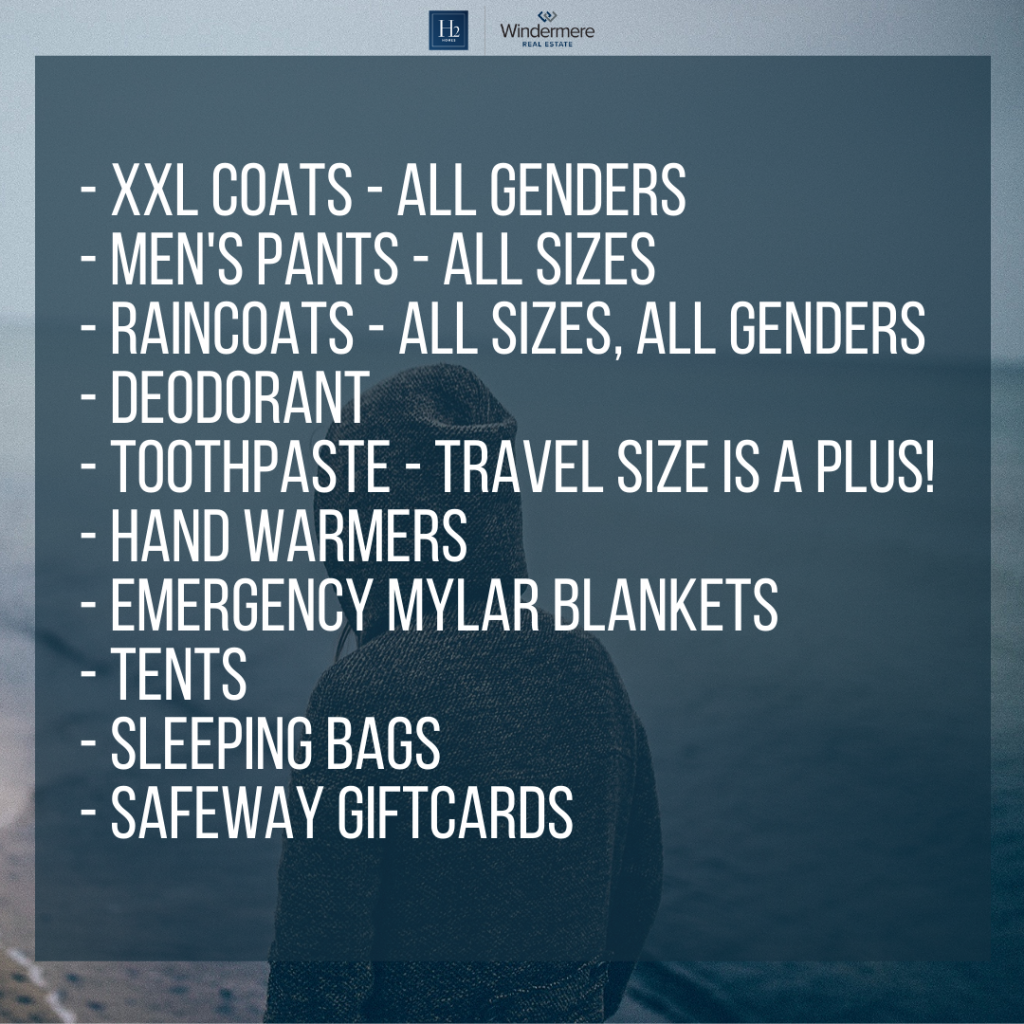 You can drop these items off at our office, Windermere Greenwood, at 311 N 85th Street in Seattle. There is a parking lot in front of the office for your convenience.  If you can't drop off during the week, we are hosting a Pop-up & Drop-off Event at the NW area of Woodland Park near the West Playground on Saturday November 20th from 11am-3pm. You can drop off your donated items and go home with a mini-pie from Ala Mode Pies in Phinney Ridge – Our way of saying THANK YOU! for giving back to the community.  Every donor also has the opportunity to enter our raffle for one of two full-sized holiday pies, just in time for Thanksgiving!
For us, being a part of a community means that we see our own humanity reflected in the faces of others. It means lending a helping hand when able, and it looks like coming together in numbers to better the lives of others. This is bigger than just us, and we are asking for your help. Help us care for those who need it the most. Help us help someone get through the winter. Help us help someone transition into permanent housing. Help us help them.
With all of our love and gratitude,
Ashli + Joe Haglund